View Mon Chéri Cattery customer unedited reviews along with submitted photos of kittens settling into their new forever homes. It always makes us feel good knowing that our little furry darlings are happy. 
Nichole Cruse Mon Chéri Cattery Review
"We are heading to Wisconsin with Dunkin in tow! Both Mia and him are passed out! If that's doesn't tell you how amazing and docile your line is!"
– Nichole Cruse, Olathe Kansas

Musleh Family Mon Chéri Cattery Review
"I would love to start off by saying that Nancy is absolutely phenomenal. She is very informative and truly cares about the wellbeing and health of our kittens/cats. She taught us everything we ever needed to know simply by communicating with us. Communication is key. We purchased two kittens from her in May 2020 Dragon & Unicorn. A female and male exotic short hairs. We were so happy with our new addition to the family that we recently purchased another exotic short hair kitten from Nancy on May 2022 and just recently added one more precious kitten to our family this week, December 2022. We have a total of four kittens/cats and we would always and forever continue this relationship with this Outstanding Company. I give them 100 stars 🌟. I recommend them to everyone! Our cats names are Dragon, Unicorn, Gucci & Storm.
– Love The Musleh Family, Crown Point Indiana
Read this review live on Mon Chéri Cattery Google Business Profile.

Dorothy R. Mon Chéri Cattery Review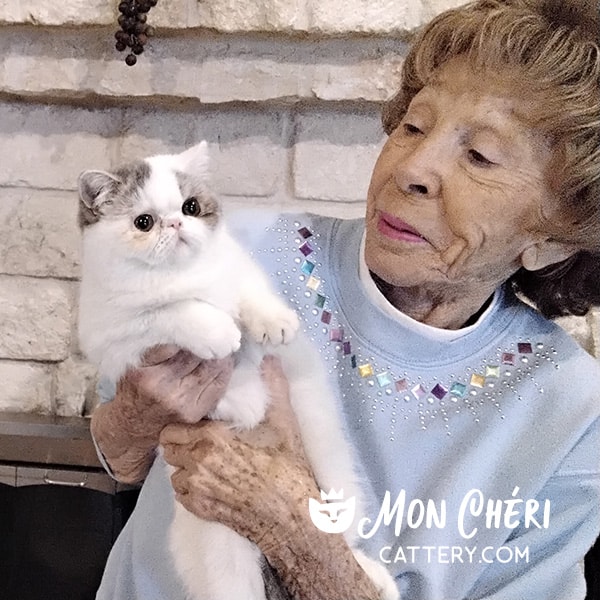 "Mia is a charmer. Loves, loves, loves to play with balls. She would make a tremendous hockey player. With both front feet she goes like lightning from one end of the house to the other. In the morning she loves to lie next to me for 30 minutes or so of petting. You can hear her soft purring. Should I get up at night, there she is, ready to be picked up, put in bed and get some more petting.
Right now I am having a major battle with the Christmas tree. Wish I had not even put one up this year. She is determined. Just when I thought I had won the battle, I did not win. It is an artificial one and I only put decorations where I thought she could not reach them. Bad mistake. Took a picture of her the other day when she found a way to get inside a box to play. She's so funny also. Absolutely any open door is an invitation to her. She already knows what the security chime means when it goes on, so here she comes ready to go inside the garage or any other door. I have to be really quick to stop her from going through any door–kitchen, pantry, closets etc. Doors are just an invitation to her to explore. She's such a wonderful little girl. I love Mia. She's wonderful." 
– Dorothy R., Texarcana, Texas

Dylan P. Mon Chéri Cattery Review

"Our Lucille is hilarious. She's so well behaved but if we catch her knocking things down or climbing up too high and you can tell that she's embarrassed. She never makes any sounds and just comes across as such a polite little lady 😂 our other cat "Papas" chases her around the house and tries to bite her legs but she sticks up for herself. The dog is terrified of "Pappas" but loves Lucille because she's so nice. Luci is such a funny little cat and has a very snobby attitude. If you try to pick her up when she doesn't want to, she just trots away like you offended her. I don't think I've ever heard her hiss other than for about 30 seconds when we introduced Pappas to the house. Now they love each other and we always say that he's a bad influence on Lucille. She's just the best cat, thank you again she is seriously like the highlight of our household. Every day she makes us laugh!!!"
– Dylan P., Cohasset, Massachusetts
See more images below Dylan so kindly submitted to us of Lucille's dresses. You may click on images to enlarge

Dr Xiaowen Wang Mon Chéri Cattery Review

"I especially wanna thank Nancy for breeding such an excellent exotic shorthair kitten! Nancy made every process so simple from reserving to pickup. This is super love from God giving for. I still remember the first day that getting our Bobby home. In the next few days, I kept company with him. He started to explore his new castle. During this time, you can see his unique active, naive, smart, and humored personality inside. Now I find the only thing that my baby does daily is eat, sleep, and play. Also, he is a little scientist. Every time when I use my laptop to work, Bobby must come over and places his foot on the keyboard and types together with me. He grows so faster, healthier, and stronger now. Every morning, he definitely jumps on my chest to sleep with me, which becomes kind of happy troubles while such a big meat ball on my chest. It is not easy to feed a pet. However, you will see their growing and needing you all the time. When you are in bad moods, they are just here with you, watching you with flat round face and big round eyes. When you get home from outside, you will see them sitting at door to welcome you home. When you feel this, everything you give for them is worth it."
– Dr Xiaowen Wang, Columbia, Missouri
See YouTube video of Bobby and photos below also submitted from the Wang family.
UPDATE: The Wang Family has added a second Mon Chéri Cattery kitten. See video
Carolyn A. Mon Chéri Cattery Review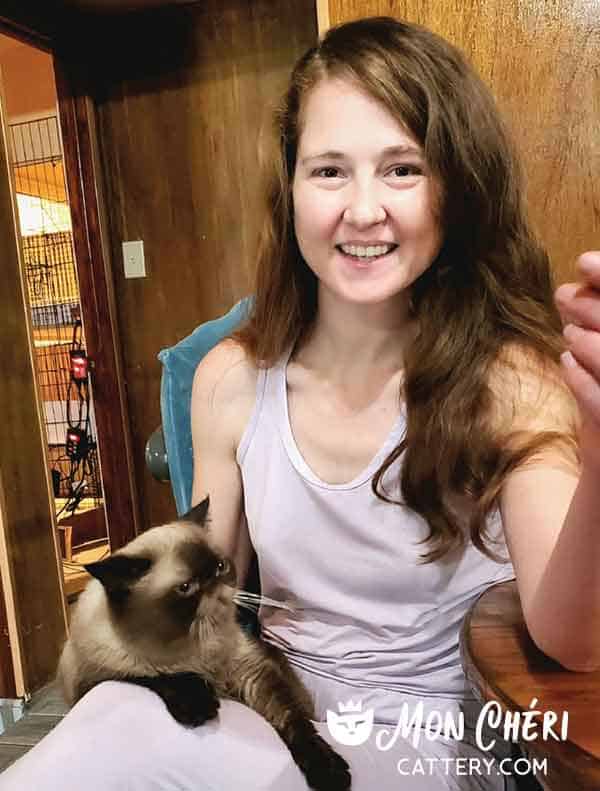 "We are so enjoying our Pueblo, a beautiful seal point male Exotic Shorthair we got from Mon Chéri Cattery. He is very healthy and well-socialized. Really a kind natured and loving guy. Highly recommend this cattery as they produce high quality cats."
– Carolyn A.

Diana Ruppert Mon Chéri Cattery Review

"My hubby and I bought a beautiful chocolate exotic shorthair kitten from Mon Chéri Cattery! Our sweet girl is the best kitten! She's smart and playful and purrs all the time. We've kept her on her same kitten food and she's thriving. Our vet says she's the nicest kitten he's ever seen. She's a little chocolate butterball! Thanks Nancy! You were honest and kind and we will be buying another kitten from you this spring! We won't go anyplace else!"
 – Diana Ruppert, Selma, North Carolina

Jana D. Boynton Beach, Florida
"I am so happy with my new kitten from Mon Chéri. The process has been amazing from start to delivery with Nancy. My kitten Margot is an absolute joy.  She is so playful loving happy and healthy. I am definitely recommending this breeder for its world-class standards. I've had purebred kitten before but this one is special.  I would highly suggest if you are thinking about getting a kitten to look no further. 
This has been a great move for my family and we are enjoying spoiling our gorgeous girl."
Thank you Nancy!
– Jana D., Boynton Beach, Florida
See additional photos Jana D. submitted below.

Mon Chéri Cattery

Review from Piper's Mom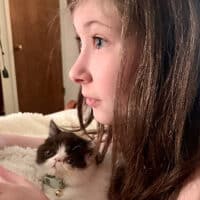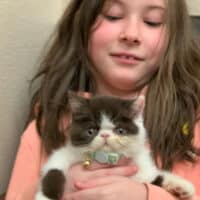 "Best buddies like you said they would be. They watch movies and play games together. My daughter got an app for kitties so they can play together chasing objects on the screen and it actually works lol! This is Piper my youngest daughter taking the baby to her first vet visit she is the talk of the town here!! Everyone loves her." 
– Piper's Mom

Mon Chéri Cattery Customer Submitted Reviews, Videos & Photos