RESERVED! Meet Mon Chéri Briar Rose & Mon Chéri Belle! We rarely have two almost identical calico van Exotic Longhair kittens for sale. These kittens are from our international champion CH Vita Nova DeJa Blu! Calico van Exotic Longhairs don't get more beautiful markings than these two adorable princesses! We'd love to keep them together. $2300 each for both or $2500 for just one.
What's included? CFA registration, health guarantee, and health certificate, all shots, and one free month of health insurance! Safe delivery is available via Pet Nanny (additional charge) to select locations or local pickup (free). $2500 Pet / $300 deposit to reserve
Shipping Discount! $200 off on shipping to select locations. Email us for details.

We really want our Exotic Shorthair kittens and Exotic Longhair kittens (or Persian kittens) to be in happy homes. Please drop us a line including the following: name, contact information, how you found us? What you are looking for in a kitten? Also your location, family members and pets in the household, and anything else that helps us know you better. Learn more at How to Buy 
About Our CFA Cattery of Excellence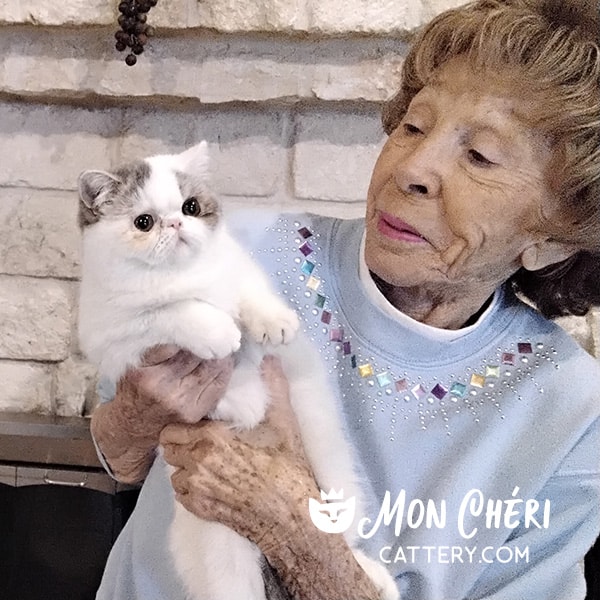 Mon Chéri Cattery is a CFA Cattery of Excellence. The Cat Fanciers' Association (CFA) has a program whereby a cattery may obtain certification from the CFA for adhering to a higher standard of care for their cats. See Mon Chéri Cattery on CFA. We have been calico Exotic Shorthair kitten breeders and calico Exotic Longhair kitten breeders for over 20 years, breeding to CFA* strict standards. Our focus is quality. We want our calico Exotic Shorthair and calico Exotic Longhair kittens to be healthy, beautiful, well-socialized and smart. And we achieve this with lots of love, time and energy we put into our cattery.
Learn about Mon Chéri Cattery customer experiences from Kathleen Strodtbeck of Tennessee and Sally Deeb of Iowa. View our unedited customer reviews with photos or reviews with videos. See our Mon Chéri Cattery kittens settled in their new forever homes in our gallery of customer submitted fun photos. 
*CFA or The Cat Fanciers' Association, Inc. is currently the world's largest registry of pedigreed cats and known as the most prestigious pedigreed cat registering association in North America. See our Mon Chéri Cattery profile on CFA.
About Calico Exotic Shorthair & Exotic Longhair Kittens
Our Mon Chéri calico Exotic Longhair kittens for sale and calico Exotic Shorthair kittens for sale have been carefully bred from show-quality Russian and German lines. Most of our Kings and Queens are Exotic Shorthairs but a few are Persians and they produce these magnificent, lovable kittens. See gallery of just how beautiful our calico Exotics are.
Our calico Exotic Shorthair or some may call Exotic Persian Shorthair and calico Exotic Longhair or some may refer to as Persian kittens for sale are available in the most desired shades of chocolate (brown), tortoiseshell (tortie), lilac (may also be called blue, silver or gray), calico, tabby, red, bicolor, solid, cream, colorpoint and black smoke. Many of our Mon Chéri kittens are making their debuts in the show ring, following the steps of their parents and grandparents! View available Exotic Shorthair kittens or Exotic Longhair kittens for sale
Join Our Notification List!
Are you looking for a very specific Exotic Shorthair or Exotic Longhair kitten? Join our notification list for new kittens available or for a specific color or sex. Not sure what you want? View our galleries at the links at the very bottom of the page to help you decide or view our other kittens for sale.